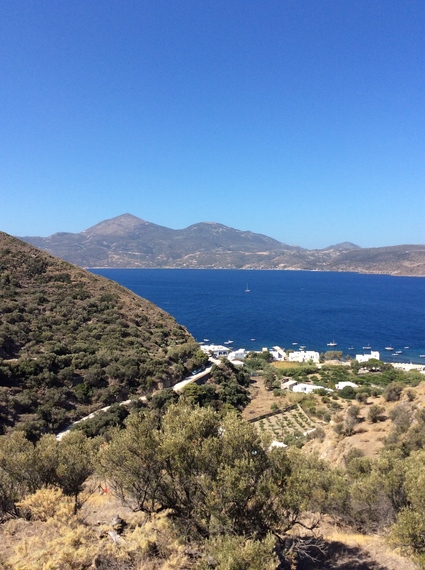 Howdy again – and thanks – to those of you who remembered to return to my tour of the Cyclades. To those of you who read Part I – and to the newcomers – welcome to Part II.
Just a brief recap; my first destination was the island of Serifos. From visiting the main town, Chora, to paying a visit to a few of the numerous beaches, it certainly left an impression. I was also pleased with the research I did prior to leaving Athens, where I live, on choosing great accommodation in Aria Hotels ariahotels.gr/en/. They have various Boutique Hotels, Guest Houses and Villas. While they're presence is mostly around various islands, they also have two Boutique Hotels in Northern Greece as well.
My next destination was Milos, an island that has to be on the list. A few facts before we get started; Milos has one of the largest natural harbours in Mediterranean Sea. From the countless beaches, a spectacular one in particular, to Sulphur Mines, Ancient Sites, Museums, and picturesque sea front villages, the to-do list should no doubt be lengthy. For me though, this visit is just a short one, so I had my work cut out.
Arriving in Milos was easy enough. The convenient aspect of island hopping is the regular ferry services on offer, flying dolphins or catamarans zig-zagging their way around the Cyclades. I rented a car quickly from the main port, Adamas, and made my way to Tripiti, a small village about 15/20 minutes away. This time I was looking forward to my first experience of staying in a windmill. It was situated on a hill and was clearly visible from afar. Quite a few windmills dot the landscape here, but most look abandoned. This one was anything but. As with Serifos, it was comfortable and well located.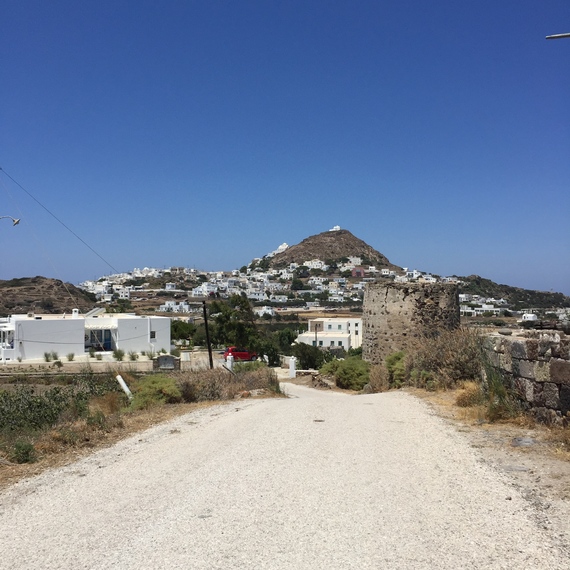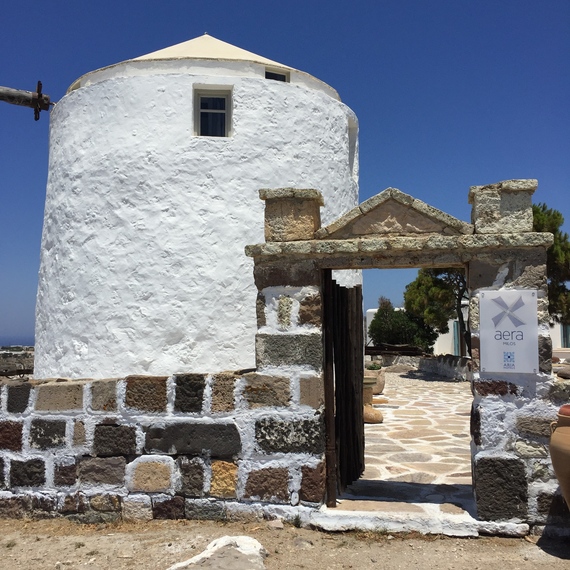 This stop was just for 24hrs, so I got going quickly. My first stop was a no-brainer – the Sarakiniko beach with its famous white stones, which resemble more of a lunar landing site rather than a beach.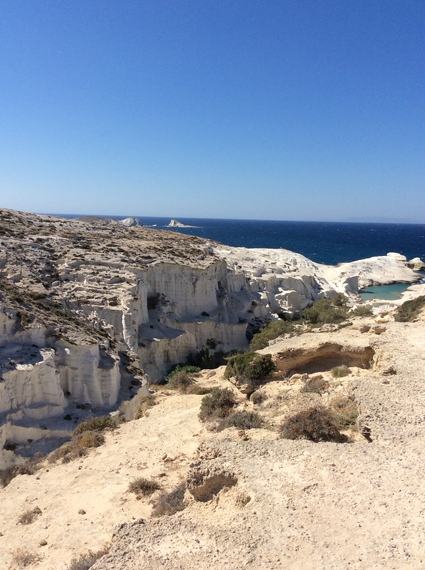 As luck would have it, a couple of friends happened to be in Milos at the same time, so we met up for dinner in another village called Apollonia, the northernmost port, and coincidentally where I'd be getting the ferry the next day to my next destination. We ate at a restaurant called Gialos, which was great. The owner, Christos, was friendly and made sure we were happy.
The next morning was a quick drive to the Catacombs – the site is actually on the edge of Tripiti. Just a short walk from the Catacombs, where you can see the well-known village of Klima on the seafront below, is the Ancient Roman Theatre. The theatre was actually constructed by the inhabitants of Klima.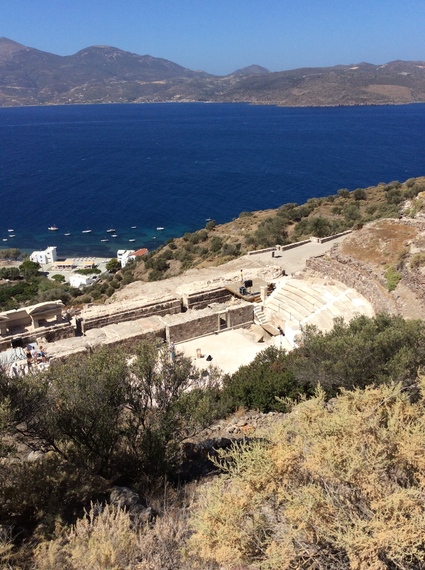 I then felt like walking a little, so drove to the edge of Plaka, the main town of the island, which is mostly inaccessible with a car due to its narrow streets.
While I consider I got through a reasonable amount in the short I was there, everything I saw was limited to one part of the island. There is so much more to this island, but I was on the move again – this time to the nearby island of Kimolos; a much smaller island, but equally impressive in terms of history and scenery.
Staying at Aria Hotels again was great – especially as it was an experience staying in a windmill. As with Serifos, it was an enjoyable and comfortable stay and I'm looking forward to seeing what's in store with their hotel in Kimolos.
So don't miss out on the final part of my hat-trick of islands. Back soon.
(This article is also available on my Huffington Post blog)
http://www.huffingtonpost.com/author/cjhadjipateras-292