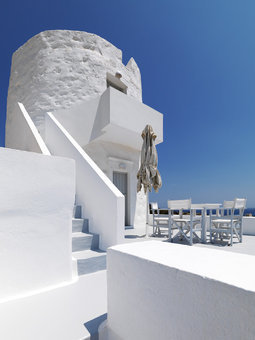 I'm definitely in island hopping mode now. For those of you who read my first two articles describing my visits to Serifos and Milos, thanks for checking in once again – this time for my final stop. The next destination literally was a hop as the island of Kimolos is situated just 1km from north-eastern Milos.
It was just a 20-minute ferry ride from Apollonia (the nearest point from Milos) to Kimolos on the local ferry. I arrived early evening. While it is significantly smaller, both geographically and in terms of population, I find these islands to be more picturesque.
Incidentally, while doing some research prior to arriving, the official Kimolos site is very informative and worth checking out; kimolos.gr
I'm once again staying at Aria Hotels, ariahotels.gr/en/, which I came across while doing my research before leaving Athens, where I live. Finding a chain that covered all my destinations was a real bonus as it provides a sense of continuity. Aria Hotels presence is mainly around the Greek islands as well as having a couple of locations in Northern Greece. So far, I've had the experience of staying at a villa in Serifos and a Windmill in Milos – certainly a difference from your standard hotel rooms! I'm looking forward to what they have in store for me in Kimolos.
So once again, collecting the car from the port was hassle free and made my way to 'The Windmill, Kimolos'. Thanks to their friendly and helpful staff, it's starting to feel like a home away from home. As it turned out, this was my personal favourite. It was a boutique hotel as opposed to the previous villa and windmill experiences. My room was large, bright and had character. The hotel consists of a dozen or so rooms with the central point being a café/bar with a scenic view of the port, Psathi, and Chorio, the main village, which is once again situated higher up, although it's walking distance from the port.
The next morning I went to Chorio and walked up to the 'Kastro', which is largely in ruins. There are two museums, the Archeological and Folk, which were both unfortunately closed due to it being a Sunday – worth noting. Chorio in general was a typical island village and the locals are friendly and helpful.
Afterwards it was a quick stop at Psathi and a walk around the marina. Despite its small size, the variety of shops and tavernas were pretty decent.
Kimolos doesn't offer the same road access as Milos, so the northern part of the island is a bit more challenging to get to. For hikers though, there are plenty of options available – the best one being a path to Skiadi – an unusual rock formation that is part of the Atlas of Geological monuments of the Aegean.
As for beaches, there is an endless choice and it's also worth noting that every one on the island is rated as excellent quality according to the Ministry of Environment, energy and climate change. In addition, the neighbouring uninhabited island of Polyegos is known for it's turquoise waters and is accessible via water taxi. As time was short, I went for the short ride to Prassia towards the northern edge. White sand, turquoise sea and a beach bar wasn't a bad combination.
In the evening, I grabbed an early dinner back in Chorio before making my way back towards the port as I had noticed a café/bar earlier in the day with a tv. The tv would be handy as that evening was the final of Euro 2016. it was fun watching with the friendly owner, locals and some French tourists, although they ended up drowning their sorrows with a few pints afterwards.
With that, it was back to the hotel as I was catching the early morning ferry back to Pireaus.
On the ferry from Kimolos back to Pireaus, I looked back on a good few days. I saw 3 islands – all of them unique in their own ways with such a wealth of history. It was also a chance to reflect on things as I always find that some days to yourself are beneficial for that.
When you're away from home it's always a bonus to count on some good accommodation and I certainly had that with Aria Hotels. They are a new, refreshing change from the never-ending list of mundane hotels and I've no doubt that they'll expand in future but without compromising the quality of what they offer. They state that each location and hotel was selected for its architectural merit and its contribution to the preservation of local heritage. This was clearly evident in all three hotels. The friendly staff I encountered along the way certainly added to the experience. I'll definitely be looking into their other locations in future, particularly in Northern Greece – a region of the country with some breathtaking scenery.
My short but eventful journey also reminded me of the beauty Greece offers. From islands to the extraordinarily diverse mainland, there is so much to see. Just from this visit I've seen the hospitality of the locals remains unchanged despite the hardships this country has endured since the financial crisis. It truly is a unique country and no exaggeration from the media should deter any tourists from visiting and I'm glad to see that that hasn't been the case from over recent years. Even in Athens, tourism remains steady. So if anyone reading this has any doubts, I hope this small contribution has helped to ease them.
(This article is also available on my Huffington Post blog)
http://www.huffingtonpost.com/author/cjhadjipateras-292