What to do? Where to go? It's early summer in Athens and the July heat is in full swing. It's been in the mid-30s since last month. Not that I'm complaining. Having been born and raised in London, I'll take the heat without too much of a problem. To add to that, this past year has been an eventful one personally and I always find that travelling to new places is a great tonic and a chance to look back on certain events and at the same time look ahead.
One of the wonderful advantages of living in Athens is its proximity to the countless islands the country boasts. So I have some time off now and decided to focus my attention on the Cyclades in the western Aegean. The word derives from the 'Kyklos', which is Greek for circle because the islands form one. The most well known in terms of tourism is probably Mykonos. I decide to go for the quieter ones – the ones that have retained a sense of simplicity. When you go to one of those islands, in a way it's almost like stepping back into the 70s or 80s with their somewhat basic infrastructure.
First though, I wanted to look for a hotel that I could book with for the entire journey. It helps to be able to find some continuity when it comes to accommodation, especially when travelling from one island to another in a short time frame. After a few searches, one kept cropping up; a relatively new family-owned chain called Aria Hotels; ariahotels.gr/en/. They have a modest number of Boutique Hotels, Villas and Beach Houses. I guessed quality and not quantity.
So although I planned to visit three islands, it was as if all my bookings had been done under one reservation. You can't go wrong when it comes to simplifying.
So with accommodation and travel all set (regular ferries go to all the Cyclades from Pireaus), I was off. Here's my short travel diary. First stop – Serifos.
The main appeal is that this island still avoids mass tourism unlike some of the neighbouring ones – namely Mykonos or Santorini. After catching an early ferry from Pireaus, the main port of Athens, We arrived in Serifos around midday and checked into Aria Hotel's villa towards the north of the island and situated quite high up, which made for an impressive view.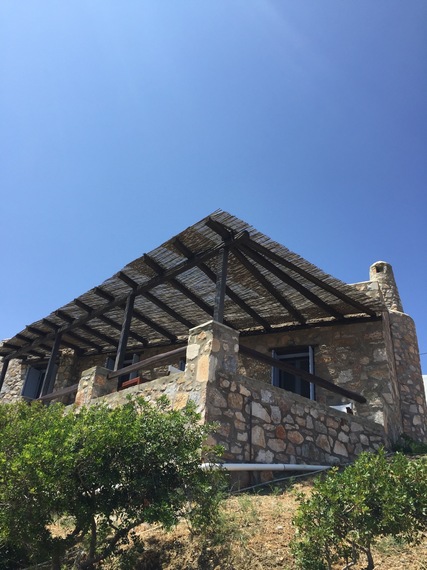 With the help of Stelios, who manages the villa, we managed to rent a car, which was lucky given the high demand. While getting around by bus and taxi isn't an issue in Serifos, renting a car is the best option if you want to see everything as it gives you the flexibility of your own schedule.
Our first stop was Chora (the main town). As with most of the Cyclades, the main towns were originally built high up and out of sight from pirates who roamed the seas during that era. After walking around, we came across a small square and a restaurant 'Stou Stratou'. The turquoise chairs against the white stone pathways made it a unique setting for a restaurant. The owners were friendly and the food was good. A definite must when you feel like something good to eat and a cold beer.
From there, we took a walk up to the 'Kastro' meaning castle, which overlooked the main port. The view made it worth the walk – you can't help but just take a few moments to admire it.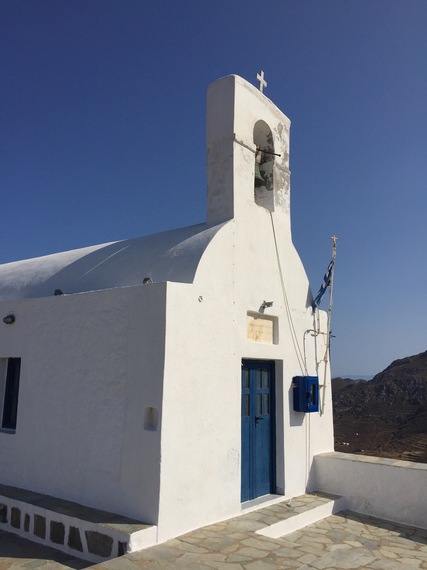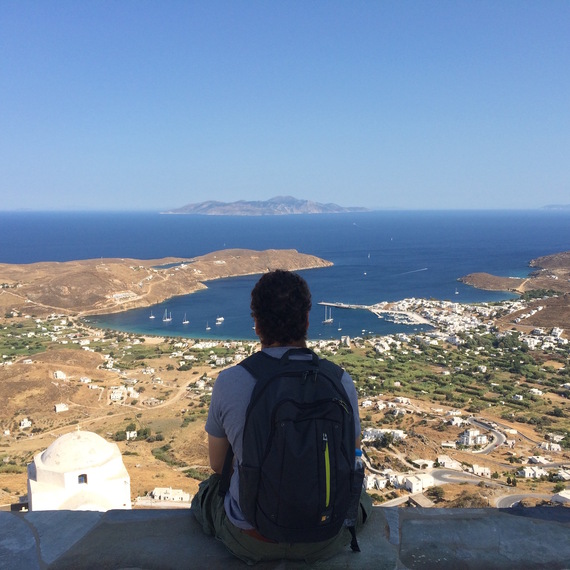 That was followed by a visit to a beach, 'Kalo Ampeli'. Due to there being no access by road, it ended up being a quite hike to get to, but it was worth it – quiet and peaceful. By the time we'd got back after a quick dinner, we were pretty pleased with an eventful day that had started at 4am in Athens.
Our second and only full day in Serifos started early with another visit to one of its numerous beaches before venturing down to the port. The beach, 'Ganema', like the previous one we had been to, fairly quiet, which may have been due to it not being high-season. Nevertheless, it's worth a visit.
That evening, we went back to Chora for an early dinner before heading back to the villa.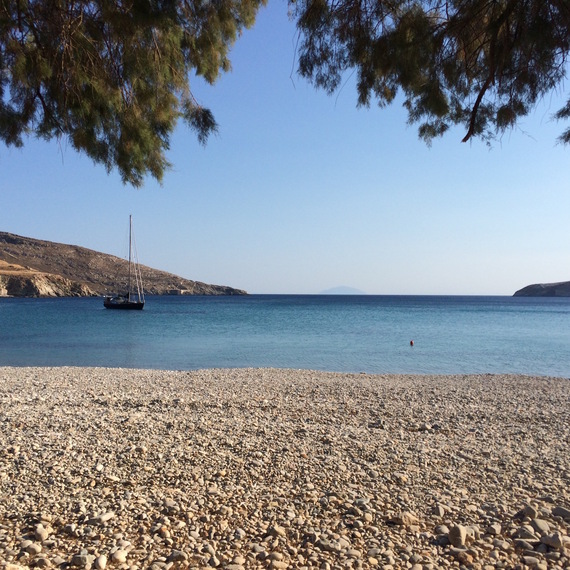 The next morning it was a quick and seamless checkout. Stelios gave us a ride back to the ferry. Staying at Aria Hotels has been great so far and I'm looking forward to seeing the next hotel because I read that it's a converted windmill, which will be a new experience. All in all it was a good start to the hat trick of islands. It makes you realise how unique Greek islands are. You just can't find this anywhere else.
Next up in round two – Milos, another island with a rich history. Back soon, stay tuned!
(This article is also available on my Huffington Post blog)
http://www.huffingtonpost.com/author/cjhadjipateras-292